If you wish to get offers and surgery plans please send your enquiry and photos on our email: info@aestheticserbia.com or via Viber / WhatsApp on: +381 64 96 21 441.
Our communication coordinator will notify you about our aesthetic clinics and surgeons that will contact you via email or phone.
Free accommodation for bigger procedure and free transfer from the airport.
Service and Support – Free of charge.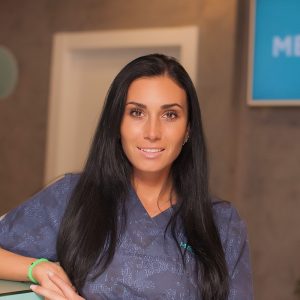 Dr Jasmina Ivic
Specialist in plastic and reconstructive surgery
EDUCATION
2006 – 2013 – Medical Faculty in Belgrade, doctor of medicine
2014 – Passed professional exam
2014 – 2015 – Specialist academic studies, surgical anatomy, Medical Faculty in Belgrade
2014 – VMA – a doctor specializing in plastic and reconstructive surgery
2015 – Doctoral Studies in Reconstructive Surgery, Faculty of Medicine in Belgrade
WORK EXPERIENCE
2013 – 2014 – Obligatory medical internship and professional training at the VMA Clinic for Plastic and Reconstructive Surgery
2016 – Specialist at the Special Hospital for Plastic, Reconstructive and Aesthetic Surgery "Medic One"
Ask the doctor
Free Accomodation
Enjoy Serbia during your treatment in one of our first-class apartments near your clinic.
Free Transfer To and From the Airport
A personal chauffeur will be with you at the airport during your arrival and departure.
Free Consultations, Offers and Treatment Plans
Get our doctor's opinion at the moments notice, free of charge.
Compare more offers - Free of Charge
Our wide array of clinics allows you to compare offers and choose the treatment you think is best for you.
The Most Renown Plastic Surgery Hot Spot in Europe
Get the best of the best with Aesthetic Serbia and enjoy the first-class treatment options at unbeatable prices.
Top Rated Plastic Surgeons
Check out our reviews and find out why are we the best-rated platform in the region.
Service and Support - Free of Charge
Our service and support is free of charge, available 24/7 during your stay in Serbia.
Reviews
A large number of useful reviews about clinics and doctors.